Make Your Own Custom Bar Necklaces With Name, Initials and Letters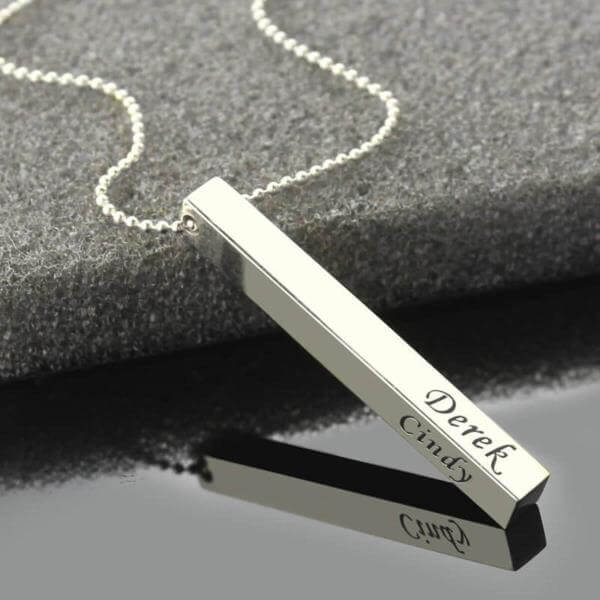 Personalized jewelry has been in fashion for decades, and custom bar necklaces are the latest and chic addition to the trend. These necklaces can be personalized with your name, initials, significant dates, or any other message that you want to express. These necklaces are stylish and meaningful, making them an excellent choice for everyday wear and gifts.
You can choose from a variety of metals including stainless steel, sterling silver, and gold. In addition, you have the option to select your preferred length and chain type which makes it possible to have a necklace that will fit you perfectly.
Most custom bar necklaces come in either a thin or thick bar design. The thin bar design is simple, elegant and pairs well with different outfits. On the other hand, thick bar necklaces provide a bolder statement making it perfect for those who prefer a more prominent piece of jewelry.
Custom bar necklaces with names are especially popular as it's a fantastic way to keep the name of a loved one close to your heart. It's also a way to celebrate your identity or showcase your unique individuality.
Moreover, these necklaces can be a perfect gift idea for family members or friends. Personalizing the necklace with the recipient's name or initials is an excellent way to show that you put thought into a gift while making it special and meaningful. Additionally, custom bar necklaces can serve as a beautiful piece of jewelry at occasions such as engagements, weddings, birthdays and anniversaries.
The beauty of the custom bar necklaces is that they are versatile and can be worn in a variety of settings. They are suitable for casual or formal outfits and can be worn alone or paired with other necklaces for a layered look. The customization options allow for customers to express themselves, and the bar necklace's chic and classic design, make it a timeless piece that will never go out of style.
In conclusion, personalization, individuality, and self-expression are currently driving the fashion trends when it comes to jewelry. Custom bar necklaces are one of the many ways to showcase that today. Whether it be to celebrate your identity, remind you of a loved one, or as a gift, you can create a necklace that's timeless, meaningful and personal.